Written by tapGP Clinical Team
Updated 17 November 2023
If you've run out of medication for your regular or repeat prescription, there's no need to worry. There are various ways to get an emergency prescription at short notice, regardless of whether you've run out of medicine or your local doctor's surgery is closed. Normally, emergency supply provisions enable you to obtain up to 30 days of medication on an urgent basis.
However, if you need urgent prescription medication, the process that applies to you might differ. If you already have a prescription or need a new one, you may have to undertake different methods of getting an urgent prescription.
Getting an emergency prescription if you have a pre-existing prescription
If you have a prescription already and need an urgent refill, consider the following options:
Go to your nearest pharmacy
If your local pharmacy or doctor's office is closed, you can usually get your prescription filled at another pharmacy as long as they have what you need in stock.
Call your GP Surgery
 If you need medication urgently (but not a doctor's appointment), give your GP surgery a call. If they're closed, they'll often have information on other out-of-hours services. Keep in mind that services can vary from one GP practice to another.
Call NHS 111
For non-emergency medical advice or help with your emergency prescription, call 111. This is especially useful if your regular pharmacy is closed and you don't need immediate medical attention. They can guide you to an out-of-hours service pharmacy or another NHS service that can provide your necessary prescription medication, such as a walk-in centre. In such a case, some walk-in services might require you to go through a consultation before you are given the medication you ask for.
A&E
If you have tried all of the above methods of obtaining an emergency prescription, find your nearest A&E. In this instance, you might need to go to your local A&E department and see the healthcare team. However, this option is only for life-threatening emergencies.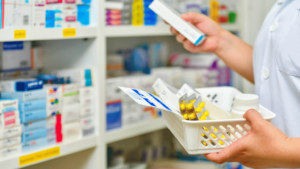 Getting an emergency prescription if you don't have one already
If you don't have a prescription already, you can try the following options to get a new emergency prescription. 
Get emergency prescriptions online
If you need an urgent prescription, whether you already have an existing prescription or not, you can book an appointment with a doctor online at a time that suits you rather than being limited to your local surgery's opening hours. Online GP appointments can get you seen by a doctor quickly without having to go into your local surgery in person. The doctor you see online can give you a prescription for the medication you need, fast, much like your regular GP would.
See your doctor or local pharmacist
Ideally, you should contact the medical professional who usually prescribes your medication to give you a new prescription, such as your doctor or pharmacist. If you cannot do this, you might be able to get urgent medicine from a pharmacist elsewhere. Some pharmacists can offer certain prescription medications in urgent circumstances. 
To make this process smoother, consider bringing an old prescription, your existing medication, or the medication packaging with you when you visit your chosen pharmacist. If possible, call ahead to let them know your situation and the medication you need. They can tell you if they have it in stock or provide guidance on where to find it.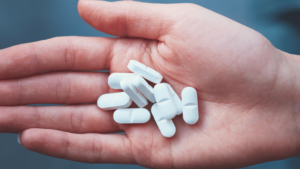 Getting an emergency prescription from a pharmacist
If your pharmacist can accommodate your request for emergency prescription medication, they will ask you to fulfil certain criteria. They may ask you to:
Undertake a face-to-face consultation
Prove that you have had a previous or current prescription for the medication you request
Confirm that you require the medicine urgently and immediately
Ensure that the dosage you need is correct
If you meet these criteria, the pharmacist may be able to issue you an emergency prescription. However, if they believe the medication or dosage isn't right for you, they may deny your request. Also, if they do give you the medication you ask for, you might have to pay for it, even if you are usually exempt from paying for prescriptions. The pharmacist will be able to explain any applicable fees to you during the visit.
When should I see my doctor?
If you need an emergency prescription for a serious medical condition, please contact NHS 111 helpline or seek advice at your nearest A&E – they can help you with an emergency prescription! You may also be able to seek an emergency prescription through your GP surgery, out of hours GP surgery service, or at your local pharmacy if you already have a regular prescription. Do not wait if you have a serious medical condition.
Ready to see an online GP? Book your online GP appointment to begin your health journey