tapGP is an online GP service designed to make it easier for you to access medical care. The online doctors at tapGP use video and telephone consultations to deliver healthcare to you, wherever you are.
The goal of tapGP is to provide you with high quality care that is convenient and easy to access. tapGP has appointment times from 8am-10pm seven days a week which makes it easy for you to access a GP out of hours if you need to. They are also usually able to see you at short notice, the same day you need an appointment and often within a few hours. The online doctors at tapGP are private doctors with NHS experience and training who are able to discuss your symptoms or concerns with you and provide the appropriate treatment.
Prescriptions can be sent to your local pharmacy and referrals and sick notes can be sent to your email inbox. As tapGP is an online doctor service, the appointments can be attended from wherever you are, at a time that suits you, making it easier to fit healthcare and GP appointments into your schedule. If you are unable to make an appointment that suits you with your own private GP, tapGP can allow you to see an online GP at a convenient time for you including out of hours.
To see an online GP with tapGP you do not need to deregister with your own GP. The online doctors at tapGP are able to work together with your usual GP to make sure you can always access the healthcare you deserve, advice or treatments that you need, when you need them including in the out of hours.

Online Private
GP Appointments
from just £19
NHS trained doctors
based in the UK

Regulated by the
CQC and MHRA

See a tapGP doctor
from anywhere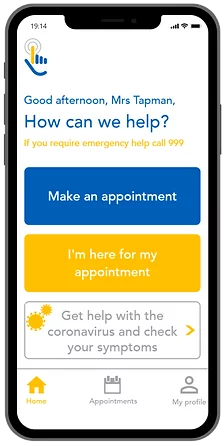 Online GP Appointments for adults & children

GMC and RCGP registered GPs

No more waiting, see a GP in minutes

Prescriptions, sick notes and referrals